The Prodigy lanza su nueva canción titulada Fight Fire With Fire (ft. Ho99o9) el 2 de noviembre, tomada de su álbum próximo a salir "No Tourists".
"Fight Fire With Fire (ft. Ho99o9)" estará disponible en streaming y como descarga. "Fight Fire with Fire" ve a The Prodigy asociándose con el crew de noise más fino de New Jersey Ho99o9, resultando en una canción down-tempo, de ritmos pesados y que perfila para sonar duro. "Esta fue la primera canción que escribí para el álbum," dijo Liam. "En cuanto a la colaboración, los chicos de Ho99o9 era la banda principal con la que quería trabajar; este tema tiene tanto peligro incrustado. Es la mejor colaboración que hemos hecho."
"Fight Fire With Fire" es lo más reciente del nuevo álbum de Prodigy, "No Tourists", y un recordatorio de que la banda ha seguido su propia ruta por el subterráneo de la cultura pop desde el día uno. Es un disco de Prodigy en todo sentido y es su declaración más directa, concisa y pura hasta el momento.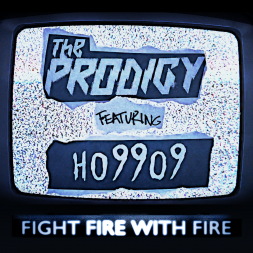 No Tourists es sobre escapar y sobre querer descarrilarse con tal de no seguir el camino fácil, explica Liam Howlett en su estudio al norte de Londres. "En esta era en la que vivimos, la gente se ha hecho más floja y se le ha olvidado explorar. Demasiada gente está permitiendo ser alimentada a la fuerza, con lo que sea. Es sobre ir más allá para encontrar una ruta alternativa donde el peligro y la emoción puede ser sentirse más vivo… no aceptar que sólo puede ser un turista. De eso va el título para nosotros."
The Prodigy regresa con veneno en la forma en la que ellos saben hacerlo. Son renegados, marginados, fuera de la ley – siempre escondiéndose en plena vista. Aunque ha cambiado mucho en el paisaje musical, lo que se mantiene constante es el enfoque de The Prodigy para hacer cosas a su manera, y en el 2018 su espíritu es algo muy necesario.
"No Tourists" estará disponible en formato digital, en CD y vinilo doble de alto gramaje. Paquetes exclusivos y ediciones limitadas están disponibles en la tienda del artista.
Preventa de 'No Tourists' aquí: https://theprodigy.lnk.to/NoTouristsPR
Sigue a The Prodigy:
http://www.theprodigy.com/
https://instagram.com/theprodigyofficial
https://facebook.com/theprodigyofficial
https://twitter.com/the_prodigy
---