Amyl and the Sniffers anuncia que su álbum debut ya está disponible. Escucha el primer track de su álbum, 'Monsoon Rock', ya disponible en Rough Trade (UK/Europa), ATO (Norteamérica) y Flightless Records (Australia & Nueva Zelanda).
"Monsoon Rock es una canción para tirar rabietas y celebrar los los buenos shows/música en vivo; la escribimos alrededor del Gizzfest 2017 cuando estaba lloviendo, pero todos se involucraron, sólo se puso más lodoso, mojado y verdaderamente salvaje. Se nos agotó el tiempo para hacer un video y siempre es divertido hacer cosas graciosas, si no tienen sentido del humor y no te puedes reír, ¿cuál es el punto de estar vivo?"
Amyl and the Sniffers está conformado por Amy Taylor (voz), Gus Romer (bajo) Bryce Wilson (batería) y Declan Martens. Se formaron en Melbourne, Australia a inicios de 2016 y escribieron, grabaron y lanzaron su EP debut, Giddy Up, por su cuenta en el transcurso de doce horas.
Su segundo EP, Big Attractions, fue lanzado en febrero 2017 y relanzado como un doble EP en 12″ junto a Giddy Up. Tanto PBS FM como Triple R FM en Melbourne nombraron el disco como 'Álbum de la semana' y la banda prosiguió a agotar las entradas de sus shows en Australia. El 2018 vio la edición limitada de las copias en vinilo de Giddy Up/Big Attractions volar de los estantes, llevando a Amyl and the Sniffers al Top 40 de las listas de vinilos en Reino Unido.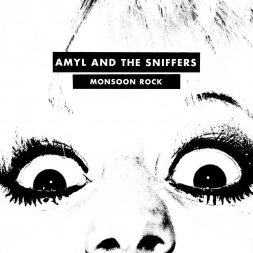 ---