---
FANTASTIC NEGRITO lanzará nuevo álbum este verano
Written by Staff on August 2, 2020
Cuando escuchas Fantastic Negrito, se te invita a escuchar la historia de la vida después de la destrucción. Cada canción es una historia real sobre un músico de Oakland que ha experimentado el subidón de un trato discográfico millonario, el bajón de un accidente automovilístico casi mortal que lo dejó en coma, y ahora está en medio de un renacer que lo llevó de las calles de Oakland a escenarios en todo el mundo.
La narrativa de este hombre es tan importante como el sonido, porque la narrativa es el sonido. Las canciones nacieron de una vida dura canalizada a través de las raíces de la música negra. Slide guitar, batería, piano. Urgente, desesperado, atrevido.
Negrito estalló en el radar después de ganar el concurso inaugural de NPR Tiny Desk en 2015, y desde entonces ha ganado Grammys con sus primeros dos álbumes: The Last Days of Oakland (2017) y Please Don't Be Dead (2018). Su tercer álbum, Have You Lost Your Mind Yet?, llega este verano e incluye colaboraciones con otro ganador de Tiny Desk, Tank (Tank and the Bangas) y con la leyenda E-40.
Fantastic Negrito ya ha compartido tres sencillos de su nuevo álbum: 'I Am So Happy (feat. Tank and The Bangas)', 'How Long?' y 'Chocolate Samurai'.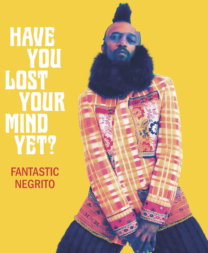 ---