Phoebe Bridgers Comparte el video de "I Know The End"
Written by Pedro Mendoza on agosto 4, 2020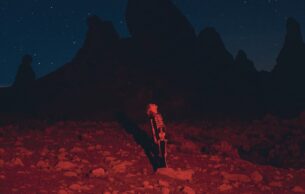 El mes pasado, Phoebe Bridgers lanzó su segundo álbum solista, Punisher, elogiado a nivel internacional. Le llovió un diluvio de reseñas positivas, llevándola a su primer #1 en Billboard en la lista de "Artistas emergentes" y dos posiciones #1 en la radio americana, además de tener presencia en el Top 10 de Reino Unido en el #6.
Hoy, revela el tercer video de Punisher, un complemento escalofriante y dramático para la canción que cierra el álbum, "I Know The End". Dirigido por Alissa Torvinen, el video incluye un final grabado en Los Angeles Memorial Coliseum. Descrita por Rolling Stone como un "crescendo de collage sonoro… con una sacudida de distopía pop, mientras Bridgers se aleja de una tierra americana fracturada de mataderos, malls de outlet y máquinas de apuestas que pasan al infinito", "I Know The End" ha sido señalada por los fans y críticos como una de las canciones más potentes de la carrera de Bridgers.
El video llega después de los otros videos de Bridgers, "Garden Song" y "Kyoto."
Bridgers fue anunciada como parte del cartel del Folk On Revival Weekend de  Newport Folk Festival. Ella formará parte del evento de paga dentro de la Mavis Staples Birthday Celebration, grabada en LA en The Theater en el Ace Hotel en mayo 2019. Los tickets para el evento virtual – que se llevará a cabo del 31 de julio – 2 de agosto
Uno de los álbumes más aplaudidos de este año, Punisher, es el sucesor del debut de Bridgers, Stranger in The Alps (2017), el EP de boygenius con Julien Baker & Lucy Dacus (2018) y de Better Oblivion Community Center, una colaboración con Conor Oberst (2019).
---